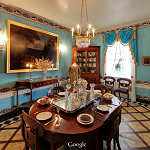 Take a virtual tour of the interior and exterior spaces at James Monroe's Highland.
The 360-degree tour is also available through the Google Maps listing for James Monroe's Highland. The virtual tour is made possible by Encyclopedia Virginia, a project of the Virginia Humanities in partnership with the Library of Virginia.
Additional web resources describe the areas of the house and grounds featured in a Highland site visit, including exhibits showing the study, children's room, bedroom, dining room, drawing room, Victorian-style wing, outdoor spaces, and dependencies.