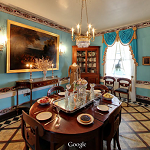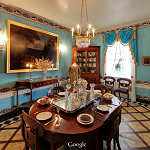 Take a virtual tour of James Monroe's Highland without even stepping on grounds! The online virtual tour can be accessed via Encyclopedia Virginia, a project of the Virginia Foundation for the Humanities in partnership with the Library of Virginia.
The  360-degree tour is also available through James Monroe's Highland's Google Maps listing.
Visitors can explore all areas of the house featured in the traditional on-site tour, including the study, children's room, bedroom, dining room, drawing room and Victorian-style wing and exhibit space. Other features include full access to the kitchen, still room, smokehouse, slave quarters and gardens.