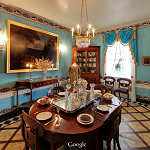 Take a virtual tour of the interior and exterior spaces at James Monroe's Highland, as curated in November, 2013. The Guesthouse was re-curated in 2021, and the virtual tour does not reflect these recent changes.
The 360-degree tour is also available through the Google Maps listing for James Monroe's Highland. The virtual tour is made possible by Encyclopedia Virginia, a project of the Virginia Humanities in partnership with the Library of Virginia.
We are currently in the process of installing an exciting new reinterpretation of the Presidential Guesthouse at Highland. Please check back periodically for updates and new media on this reinterpretation.