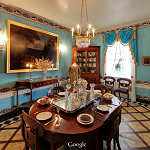 The public can now take a virtual tour of James Monroe's Ash Lawn-Highland without even stepping on grounds. With support from the Virginia Foundation of the Humanities, photography took place in late 2013. The online virtual tour can be accessed via Encyclopedia Virginia, a project of VFH in partnership with the Library of Virginia, and Ash Lawn-Highland's Google Maps listing.
Visitors can explore all areas of the house featured in the traditional on-site tour, including the study, children's room, bedroom, dining room, drawing room and Victorian-style wing with additional displays. Other features include full access to the kitchen, still room, smokehouse, slave quarters and gardens.
"We are delighted to see the finished project launched and available to the public," said Executive Director Sara Bon-Harper. "This virtual tour is just one of many initiatives Ash Lawn-Highland is taking to advance engagement and adapt for the future."
Ash Lawn-Highland thanks the Virginia Foundation for the Humanities for its support as well as generous individual lenders, the James Monroe Museum and Memorial Library and James Madison's Montpelier, a National Trust Historic Site, for their photographic permissions.