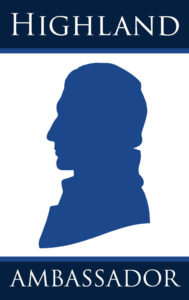 Annual donors to Highland who wish to increase their engagement and impact, introduce and promote Highland to others, and invest their time and talent in other specific ways, may request inclusion in the volunteer service corps of Highland Ambassadors.
Ambassadors help build a network of Highland enthusiasts and play a key role by supporting and promoting activities and initiatives. Ambassadors act as a talent resource providing valuable services that enrich the public experience at Highland and increase the reach of our message.
What do some of our current Ambassadors do at Highland?
Act as local information resource
Assist with events and programs, including fundraisers
Maintain and manage our rustic trail system and bee yard
Share their photographs of Highland people and places
Grow the Highland community through collaboration and information sharing
Blog experiences and join in the online conversation about the history of Highland
Help provide greetings and wayfinding for large tours and events
Participate in gardening through our Adopt-a-Garden initiative (details coming soon!)
Leverage connection with local businesses, community groups and others to promote sponsorship opportunities
Introduce visitors and potential new friends to Highland, for which tickets are supplied upon request
Annually, Highland Ambassadors are invited to events organized by or at Highland, such as:
An annual "First Look" lecture, given by Executive Director Dr. Sara Bon-Harper or an outside distinguished speaker, showcasing the latest research, upcoming projects or featured topics
A history-related field trip during the summer, with our Education Programs Manager
A winter open house, a festive event in early December to personally thank our supporters
And Highland Ambassadors:
Receive an annual pass, and are recognized for volunteer stewardship status with an "Ambassador" badge
Ambassadors take their engagement to the next level by volunteering, and serving to engage other individuals to help build a robust and diverse, multi-generational pipeline of friends to Highland. We are truly grateful for the role you take in our shared commitment to this historic site.
To learn more about how to become a Highland Ambassador please contact us 434-293-8000 or info@highland.org.