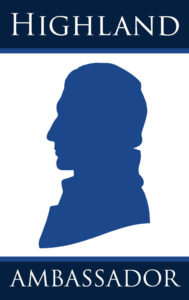 Highland Ambassadors is a group whose purpose is supporting James Monroe's Highland. Support is in part financial, and also in time and expertise. Moral support is also a big part of this group! Highland Ambassadors will be engaged in projects and activities at Highland through financial gifts to specific initiatives or operating needs, and also by volunteering, and by helping build word-of-mouth awareness of Highland and its mission.
Membership in the Highland Ambassadors program is $100 per person annually. There are also many volunteer opportunities at Highland, open on a one-time or recurring basis. For example, members may choose to greet attendees at special events or host family activities stations on certain days. Both of these provide opportunities to provide a welcoming presence. Community outreach is an ongoing need that members fill by acting as ambassadors for James Monroe's Highland.
In recognition of the contributions made to our mission, Highland Ambassadors will have access to exclusive events throughout the year. These events include:
An annual "First Look" private lecture, hosted by Executive Director Sara Bon-Harper or another distinguished speaker, showcasing the latest research, upcoming projects, or featured topics.
Field trip to a Monroe themed, historically relevant property with Education Programs Manager, Nancy Stetz.
 Ambassadors will also be included in a winter open house, a festive evening event in early December.
In addition to access to exclusive events, Highland Ambassadors will be granted the following benefits:
15% discount in museum shop, excluding consignment items
Annual pass to unlimited house tours and access to grounds.
Two pairs of house tour tickets to distribute to friends or family
VIP seating at Highland special events
Reduced rate for facility site rentals (Monday-Thursday)
Exclusive access to private segments of special events (before or after concerts, lectures, etc.)
To become a Highland Ambassador, print and complete the Highland Ambassador Registration Form, and return with your donation to:
James Monroe's Highland
Attn: Highland Ambassador Program
2050 James Monroe Parkway
Charlottesville, Virginia 22902