Would you like to inspire your students with the ongoing study of history? Let them experience it firsthand on a field trip to Highland!
Time: Allow for 90 minutes
Price: $8.00 per student, $10.00 per adult chaperone, free to teachers (15 person minimum)
Contact education@highland.org to set up a program
Here's Highland (3rd-12th grade)
Highland is pleased to offer group tours for student learners. Groups will be led by one of our expert guides for a 30 minute outdoor history walk, which includes the site of the recently discovered 1799 Main House. Participants will learn the significance of Highland and its enslaved and free occupants, as well as how recent archaeological discoveries have upturned the understanding of this plantation. Following the outdoor history walk, guides will accompany students for a self-paced visit of the 1818 Guesthouse and interior exhibit spaces. Allow time for independent exploration of the grounds, original outbuildings, and the museum shop.
Highland After Hours
Are you seeking outdoor dining for a student group spending the night in Charlottesville? Consider having a catered meal in the Hilltop Pavilion at Highland and a private exhibit viewing for your students after hours. Contact info@highland.org to inquire about availability.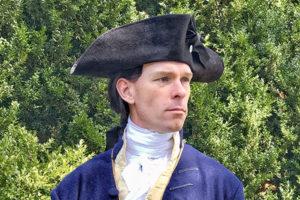 Meet President James Monroe
For a truly unique experience, consider having James Monroe re-enactor Beau Robbins perform for your group! Please use the link at the bottom of the page to inquire about pricing and availability.
Virtual Programs
Time: 30 minute presentation with 15 minutes for questions (45 minutes total) on Zoom
Price: $40.00 per session
Contact education@highland.org to set up a program.
Becoming a Nation (4th-5th grade)
VA SOL: 3.1 f), g); VS.1 a), d), e), f), g); VS.4 a), b); VS.5 a), b); VS.6 c); USI.1 a), b), d), e), f), g); USI.6 a), b), c); USI.8 a), b), c)
Learn about James Monroe's role in the Louisiana Purchase. What did westward expansion mean for native peoples, the institution of slavery and free white landholders? How were the free and enslaved residents of Highland impacted?
Slavery at Highland (4th-12th grade)
Learn about the individual experiences of those enslaved at Highland. Discuss living and working conditions, resistance and community. Students will learn how descendants from the enslaved families of Highland are involved with the stories told at Highland today.
Rediscovering Highland (6th-12th grade)
VA SOL: USII.1 a), d), f), g); VUS.1 a), d), f), h); VUS.6 b), e)
Learn how the Monroes' main house was lost and then rediscovered. Evaluate primary and secondary sources and discuss how the combination of science and history can reveal a new understanding of the past. Learn how the discovery of the main house led to a connection with descendants of those who were enslaved at Highland.
Ask an Expert (K-12th grade)
Send in advance questions and curate your own Q&A session with Highland's Education Programs Manager!
School Group Lunch Options
Highland offers many convenient options for student groups to enjoy lunch on grounds. Box lunches can be ordered in advance for tour groups.