Highland serves as a case study in the formation of American identity, the complexities of slavery, and a nation forging its way into a powerful Atlantic world. This database makes primary documentation and objects related to these themes accessible and approachable for students.
These educational resources serve two main purposes. First, the educational resources provide teachers, primarily secondary educators, with the building blocks for thoughtful and engaging primary source activities. Lessons in transcribing original manuscripts, reading assignments using student-produced transcripts, discussions around document-based questions, object analysis, and bibliographies for further research are made available for use in history classrooms. The variety of lessons utilizing these primary sources also align to both Virginia and National Standards of Learning, assuring teachers that they can be used as part of their curriculum. Second, scholarly researchers now have easy access to a wealth of manuscripts of local and national significance pertaining to Monroe, many of which are not available elsewhere online. The thematic compilations of manuscripts, combined with their bibliographies, are invaluable tools for anyone researching the early history of the United States.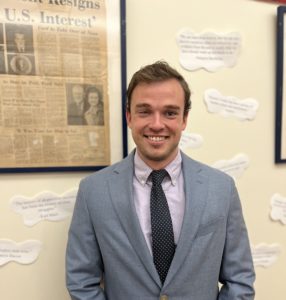 These Teacher Resources were done in partnership with Hampton Kennedy from the Blue Ridge School. Hampton has previously worked at schools in North Carolina and New Hampshire and has taught world history, civics, economics, and United States history, although America's early republic remains his favorite topic of study. Hampton earned a Master's degree in history from Norwich University and a Bachelor's degree in history education from Appalachian State University. He is an outdoorsman and hiker, avidly exploring places as local as Shenandoah National Park and as far away as the Himalayan Mountains.
Hampton would like to extend a special thanks to the following institutions for their support and permission to reproduce their manuscript holdings for this educational project: The American Numismatic Society, The Historical Society of Pennsylvania, The James Monroe Museum, The James Monroe Papers at Mary Washington University, The Library of Congress, The Library of Virginia, The National Archives and Records Administration, The New York Public Library, The University of Virginia, The University of Wisconsin, and The White House Historical Association.