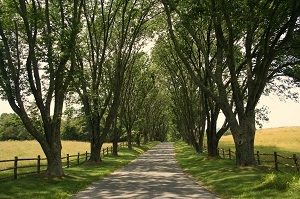 Are you excited by history or tourism? James Monroe's Highland is one of Charlottesville's most treasured attractions. Working at the home of James Monroe is interesting, fulfilling, and educational.
James Monroe's Highland accepts resumes and applications exclusively through the William & Mary website for positions that are currently open. Available positions at Highland can be found listed below or through William & Mary's Employment Opportunities online system by entering the search keywords "Highland.
---
Postdoctoral Fellow
James Monroe's Highland seeks a postdoctoral fellow to participate in research and programming for James Monroe's Highland (Charlottesville, VA). The residential fellowship will be awarded for a period of two years, beginning August 2020 and are open to individuals who have met all requirements for the doctorate by the position start date.
The Highland Fellow will participate in descendant-informed development of new public exhibits and programs, especially new exhibits and curated spaces that reflect the history of the founding era and truthfully include diverse narratives, especially those of enslaved African Americans, and acknowledge the long shadow of slavery in the American Experience. Primary responsibility of the Highland Fellow will be the completion of exhibit-directed historical research, including African-American history and genealogy, and the preparation of exhibit content. The Highland Fellow will also teach a hybrid interdisciplinary course to William & Mary students. With Highland's work as the backdrop, the emphasis of the course will be on pushing the boundaries of traditional historical content and its production, as well as the boundaries between the institution and the public.
This fellowship is supported by Sharing Authority to Remember and Re-interpret the Past, a grant to William & Mary by the Andrew W. Mellon Foundation. For more information, or to apply, visit http://jobs.wm.edu/postings/37598. William & Mary is an Equal Opportunity Employer.
---
W&M is committed to equal opportunity/affirmative action in its employment practices.
W&M is committed to a drug and alcohol free workplace.
W&M is committed to the provisions of the Americans with Disabilities Act. Please call (757) 221-3169 if you require accommodation in the application or interview process.
A criminal conviction check may be conducted on individuals offered employment at W&M.
In accordance with INS regulations, all individuals hired for positions at W&M will be required to present proof of identity and eligibility to work in the United States, on or before their first day of work.