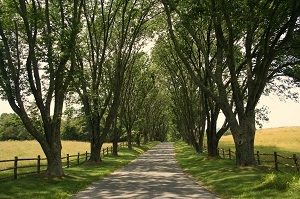 Are you excited by history or tourism? James Monroe's Highland is one of Charlottesville's most treasured attractions. Working at the home of James Monroe is interesting, fulfilling, and educational.
James Monroe's Highland accepts resumes and applications exclusively through the William & Mary website for positions that are currently open. Available positions at Highland can be found listed below or through William & Mary's Employment Opportunities online system by entering the search keywords "Highland.
---
Custodian
Highland, the home of President James Monroe in Charlottesville, VA, seeks a part-time Custodian. The Custodian provides cleaning and maintenance services within designated buildings and event facilities. The position maintains the upkeep and cleanliness of buildings and event facilities and to ensure a clean environment is maintained for all staff, facilities renters, and visitors.
The College of William and Mary values diversity and invites applications from underrepresented groups who will enrich the research, teaching and service missions of the university. The College is an Equal Opportunity/Affirmative Action employer. This position is located in Charlottesville, Virginia.
For more information and to apply for this position, please visit: https://jobs.wm.edu/postings/31812.
---
W&M is committed to equal opportunity/affirmative action in its employment practices.
W&M is committed to a drug and alcohol free workplace.
W&M is committed to the provisions of the Americans with Disabilities Act. Please call (757) 221-3169 if you require accommodation in the application or interview process.
A criminal conviction check may be conducted on individuals offered employment at W&M.
In accordance with INS regulations, all individuals hired for positions at W&M will be required to present proof of identity and eligibility to work in the United States, on or before their first day of work.