Inside Highland
New Exhibits!

Even seasoned visitors will have something new to discover at the reinterpreted Highland. In September 2021 we will open newly curated spaces in the 1818 Presidential Guesthouse. These new exhibits will be self-guided, and are designed to give visitors an inclusive view of U.S. history through the people and events of Highland. Visitors can move freely through the spaces once frequented by all the residents of the Highland plantation—the Monroes, their guests, enslaved persons and artisans. Each room will be narrated by a series of bilingual panels, and accompanying QR codes allow guests to access additional content through their phones!
Stay tuned for exhibit opening details as we complete installation. We offer a sneak peek through the following descriptions:
Curator's Notes – Narratives in the guesthouse reflect the people and events that provide historic context to Highland of the early 1800s. In addition to its inclusive historical and geopolitical accounts of a political and social ecosystem, Highland showcases a collection of objects original to James and Elizabeth Monroe. Highland's collection reflects the style and experiences of the Monroe family as politically mobile people with international connections. The stories conveyed are new ones that weave together political, social, and economic themes.
West Guest Room – The West Guest Room is one of two original rooms of the 1818 Presidential Guesthouse, and is curated to reflect a visitor's stay at Highland and present the importance of overnight visits in the early nineteenth century. The room reveals the scattered belongings of a just-arrived male visitor, and features an ornately carved high-post bed that belonged to the Monroes. This room also contains a marble-topped bureau made for James Monroe by Washington, DC cabinetmaker Robert Davies.
East Guest Room – This guest bedchamber describes the labor involved in opening and closing a guesthouse, as well as the far-flung stories that converge with the comings and goings at rural Highland. One of the two original 1818 Presidential Guesthouse rooms, this bedchamber includes original Monroe family furnishings—and stories of Highland's place in agricultural and political contexts.
West Shed Gallery – In 2012 Highland's new administration began to re-examine some long-held assumptions about the house's structure and function. In the process, Highland made some surprising discoveries! This gallery takes visitors through the curious saga of Highland's past, walking them through the architectural and archaeological clues that the research team used to discover a forgotten building and better understand existing ones. This room is itself an artifact, as part of the 1820s architectural addition to the Presidential Guesthouse.
East Shed Gallery – This exhibit space opens a window into a moment in time though Monroe's September 6th, 1818 letter to son-in-law George Hay. Visitors imaginatively encounter the people, places, and concerns in Monroe's letter: travel, health, presidential to-do lists, domestic projects, geopolitics, familiar faces, and the story of the guesthouse's builders, enslaved men George Williams and Peter Malorry. This room is part of an 1820s architectural addition to the Presidential Guesthouse.
1850s Room – This ornate sitting room, built several decades after the Monroes sold Highland, introduces the arc of Monroe's influence in geopolitics. The new exhibit foregrounds James Monroe as a diplomat and emphasizes the geopolitical reach of his long political career. The vignettes in this space interpret Monroe's international relationships and the experiences of ordinary people impacted by the events of Monroe's career. Visitors have the chance to take in European opulence in juxtaposition with the implications of the Louisiana Purchase and westward expansion, political achievements that displaced Native Americans and fueled slavery as they brought wealth to the young United States.
---
Up Next!
Additional site spaces are slated for re-interpretation in the coming years.
1850s Kitchen – The 1850s kitchen and service yard to the south of the guesthouse were work spaces essential to the functioning of the plantation in the mid-1800s.
Smokehouse – A smokehouse was an essential part of a historic plantation. The smokehouse at Highland is likely the oldest standing structure on the property.
Reconstructed Quarters – A reconstructed three-room dwelling for enslaved people flanks the west side of the service yard. This building was reconstructed in the 1980s based on photographic evidence of a structure that survived into the early 20th century. The architectural details shown in the photograph of that surviving building suggest that it dates to the 1840s or 50s. There was likely an earlier quarters in the same location. Monroe discussed that building in an 1818 letter to his son-in-law, indicating that it had three rooms that originally housed enslaved workers (he called them servants), later converted to guest accommodations.
Overseer's House – An original building may have housed an overseer tasked with running the agriculture-based economy of Highland. Tree-ring dating indicates that this building dates to the early 1820s.
The Massey House – Two ground-floor rooms in the c.1870 Massey House are open to visitors. The current exhibit is dedicated to Monroe's involvement with foreign affairs during his career. Among the objects permanently on display is a dropleaf table—made from Honduran mahogany circa 1825—sent to Monroe on behalf of the people of Santo Domingo, now the Dominican Republic. The table commemorates Monroe's now-eponymous statement of foreign policy "the Monroe Doctrine," which  policy protected the Western Hemisphere from European political and military intervention. The Victorian-Style wing also houses a bust of Monroe sculpted by Attilio Piccirilli.
---
The Highland Property and Plantation Economy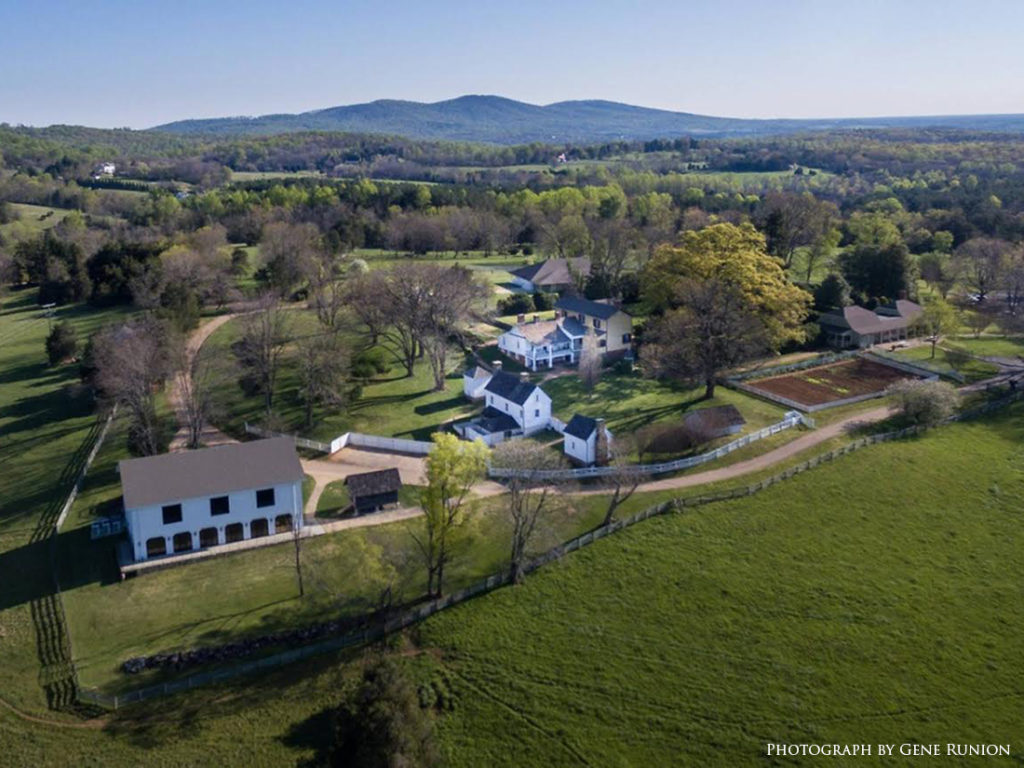 Plantations – Plantations were large money-making enterprises, producing crops and goods for their own consumption and to sell for profit. The early U.S. economy was built on slavery, and this was especially—though not exclusively—true for southern plantations. Enslaved workers inhabited the same economic and political world that Monroe did, and experienced the same historic forces. They grew tobacco, later supplemented with mixed grain, especially wheat. Because foreign cloth was expensive, they produced textiles from flax and the wool of Spanish Merino sheep that Monroe imported and cross-bred with his domestic flock. They felt the threat of the Deep South's burgeoning cotton industry, eclipsing the economic power of plantations in the Upper South. Monroe experienced this in uncertain profitability, and enslaved families faced the potential of sale to labor-hungry plantations in Florida and other territories.
We know the names and personal stories of many enslaved individuals who were responsible for the plantation's goods production and daily operations. For example, Nelson was a blacksmith who shod horses and hammered ironware, and may have arrived at Highland with his mother, Hannah, an enslaved cook who came to Highland with the Monroes in 1799. Learn more about the stories of individual enslaved people here: https://highland.org/enslaved-biographies/. More knowledge will come to light as we continue to research in collaboration with a Council of Descendant Advisors https://highland.org/descendant-advisors/.
Initially, only a small portion of Highland's land was cultivated. In 1798, however, Monroe estimated that the plantation could produce 20,000 pounds of tobacco under the right conditions. Like his friend and neighbor Thomas Jefferson, Monroe directed his enslaved workforce to experiment with a variety of agricultural techniques. They planted "cover crops," which are vegetation planted to cover idle soil to protect it from erosion, manage water flow, and increase soil quality and productivity. Local planters also plowed plaster of Paris, or gypsum, into the soil, which was understood to improve drainage in clay soils like that in Albemarle County. Eventually Highland supplemented tobacco with more soil-preserving grain crops. Highland had a gristmill to process corn and wheat and a sawmill to process timber from its 2,000 wooded acres.
Gardens – Today Highland has ornamental and utilitarian gardens much like it did in the early 1800s. Herb gardens supplied more than just seasonings for cooking: plants scented linens, repelled moths, dyed fabrics, and provided medicines. Enslaved gardeners at Highland likely found that that some plants thrive in the rich red Virginia clay while others struggle and eventually die.
Today's vegetable garden yields cabbage, beans, corn, squash, tomatoes, and numerous kinds of greens. Many of these crops were grown in gardens historically in the Virginia Piedmont.
On the Grounds – The Colonial Revival boxwood gardens create the Massey House's formal landscape and surround the historic white oak that—along with a nearby hemlock—was here during Monroe's residency.
Many of the trees surrounding the historic structures and lining the scenic entrance road are white ash trees. They are treated biennially to protect against the emerald ash borer, an exotic pest that poses a significant danger to regional deciduous forests.
Highland's outdoor spaces are appropriate for your exploration of the historic landscape. We also have six miles of rustic hiking trails that span wooded hillsides, meadows, and streambanks https://highland.org/plan-your-visit/highland-trails/. The trails are free and outside the fee-paying area. However, access to the trails is limited to Highland's operating hours.