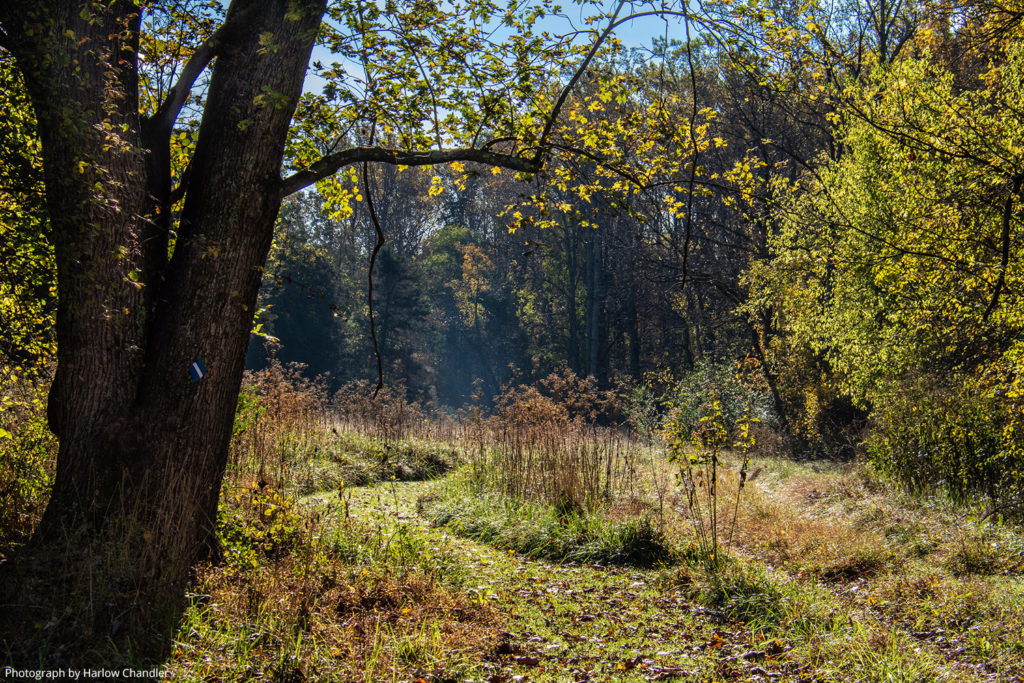 Highland is pleased to host an important environmental project to repair a segment of Highland's riparian areas overrun by invasive plant species. The Riparian Buffer Project benefits Massey Creek, which winds through the Highland landscape, and has downstream effects on the James River and the Chesapeake Bay. So what is a Riparian Stream Buffer?
Riparian buffers are the trees, shrubs, and other vegetation along our waterways. These streamside forests provide the James River and its tributaries with the protection they need. Riparian buffers slow flood water, improve water quality by filtering runoff from upland land use, provide canopy cover to shade and cool the stream, provide habitat for a variety of birds and small mammals, and are a great place for recreational activities such as fishing, hiking, and bird watching.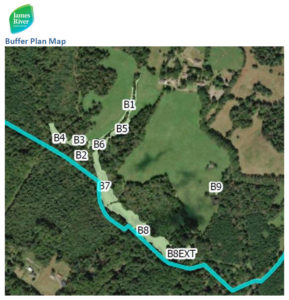 Planning for the Riparian Buffer Project began in October 2020 with conversations between representatives from the James River Association and Highland. After almost a year of coordination, site work at Highland began in early December 2021. The Riparian Buffer Project is supported by a number of organizations and individuals and is managed by Restoration Manager Anne Marie Roberts from the
James River Association
in partnership with Highland Ambassador Tamara Wamsley and Highland Trails architect Harlow Chandler. This project is funded by the Virginia Environmental Endowment. Conservation partners include the Rivanna Conservation Alliance and the Virginia Department of Forestry. Forestry mulching, site prep, and native planting is managed by Agriculture Solutions of Albemarle and Conservation Services, Inc.
Site Preparation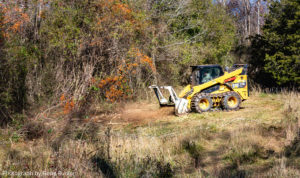 The first step to establish a native-species riparian buffer is to clear the area of invasive vines, shrubs, and trees that choke out native plants. Forestry mulching (shown to the left) is an effective way to remove invasive plants such as Chinese privet, oriental bittersweet, Japanese honeysuckle, and autumn olive. This mechanical process removes and grinds up vegetation, including surface roots, making it difficult for invasive plants to re-establish themselves in the future. Pasture mowing is another technique used to remove grasses including tall fescue. Additional invasive plants are removed using selective herbicide treatments.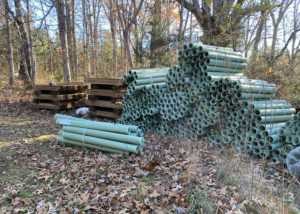 After the invasive plant species were removed, a team spent several weeks re-introducing native trees and shrubs to the area. Just shy of 2,000 native trees and shrubs were  planted, including a wide variety of native plants: black willow, persimmon, red maple, dogwood, poplar, chokeberry, winterberry, sassafras, redbud, and many more! These new plants are encased in protective planting sleeves (pictured to the right) to discourage browsing by wildlife and other threats to early development. The newly planted riparian area will be maintained by the James River Association for three years. Highland is committed to maintaining this area beyond the duration of this project.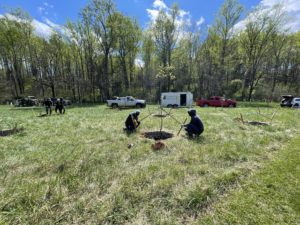 In April 2022 an additional sixteen native trees were planted in a dedicated tree library along the south end of the riparian buffer zone. These trees were more mature than the saplings planted during the initial phase of the buffer project, and were spaced further apart to allow each tree to grow without the competition from other plants. Each tree planted in the Highland Tree Library will have an accompanying QR barcode mounted on a post, allowing guests to use their phones to retrieve additional information on the tree species. The Highland Tree Library is intended to be a learning space, as well as a place for guests to relax under the canopy of some of Virginia's finest native tree species.
Volunteer Opportunties
Highland is supported by a number of dedicated volunteers. Many of these individuals have contributed their valuable time and skills to the Riparian Buffer Project. If you are interested in volunteering, please email us at info@highland.org.
---
If you would like to learn more about the Riparian Buffer Project at Highland, please see this project report from the James River Consortium: https://jamesriverconsortium.org/james-monroes-highland/.