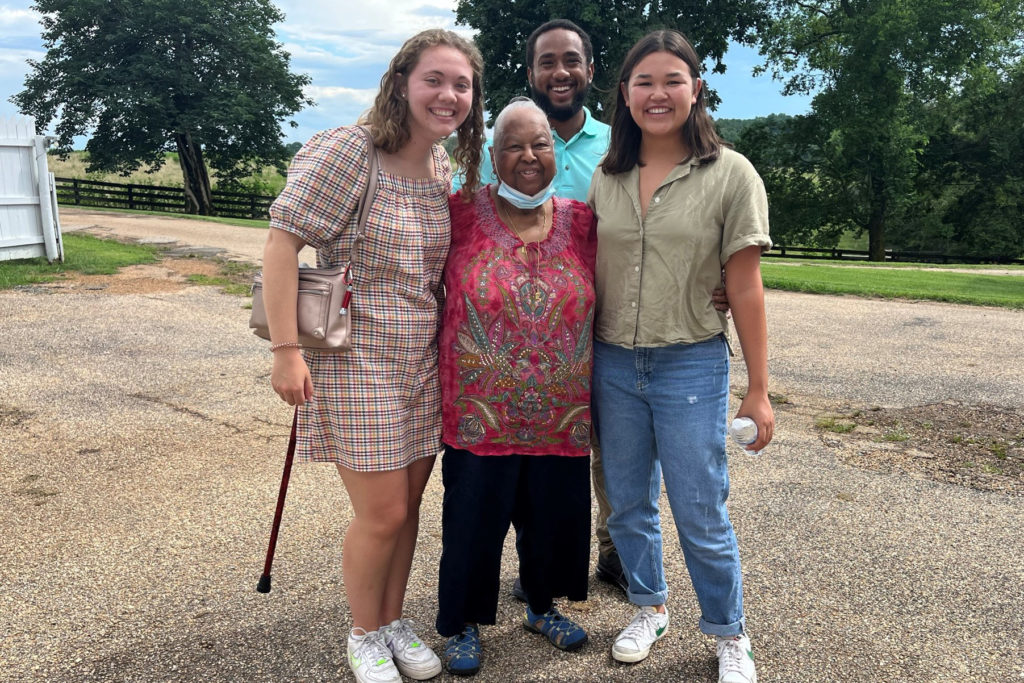 We are pleased to announce the completion of a student project envisioned by the
Highland Council of Descendant Advisors
and carried out during 2022. The Highland Council of Descendant Advisors is a group of individuals who trace their family histories to African American ancestors at Highland either during slavery or after the Civil War.
The project was designed to explore land use and conservation in the activities of growing, raising, hunting, preparing, and enjoying food—collectively called foodways—that are practiced by African Americans with family roots at Highland.
Starting in January 2022 the team of three William & Mary students, Anna Arnsberger, Bridget O'Keefe, and Josiah Tunstall, studied the history of the plantation system in Central Virginia with an emphasis on ecology. During the summer they conducted interviews with six family groups, some of whose members serve on the Highland Council of Descendant Advisors. The students' work was funded by a grant called Sharing Authority to William & Mary from The Andrew W. Mellon Foundation, and by William & Mary's 1693 Scholars program.
The results, now archived for the families, with a portion available to the public at https://highland.org/foodways/ show that the importance of sustainable home land use, gardens in particular, and a love of favorite family meals have been passed down from one generation to the next, while there is creative innovation in how food is prepared.
"It has been meaningful to explore our family's traditions and record them for future generations," said Jennifer L. Stacy, a member of the Highland Council of Descendant Advisors. "Our connections with gardening and cooking run deep."
The project was year-long Conservation Research Program in the Institute for Integrative Conservation (IIC) at William & Mary. The student team worked alongside the Council of Descendant Advisors, William & Mary faculty mentors Dr. Fernando Galeana Rodriguez (Assistant Professor, IIC and Department of Sociology), Dr. Daniel Cristol (Chancellor Professor of Biology and Director, 1693 Scholars Program), and Dr. Sara Bon-Harper (Executive Director of Highland, IIC Faculty Affiliate, and Research Professor, Department of Anthropology), to design and implement the project. This foodways project is part of an ongoing collaboration between the IIC and Highland to engage students and faculty in descendant-engaged research. Through the Conservation Research Program, the IIC unites William & Mary students from diverse majors, faculty from across departments and schools, and external conservation partners in applied conservation research.
You might also be interested exploring cooking traditions at two events on Tuesday, April 4. From 11:00 a.m. to noon, we will welcome Marie Pellissier, PhD candidate at William & Mary, for a free virtual program on how cookbooks can be used as a primary historical source. From 1:00 p.m. to 4:00 p.m. Highland visitors can share their own recipes and food histories at an on-site pop-up exhibit featuring Marie Pellissier.