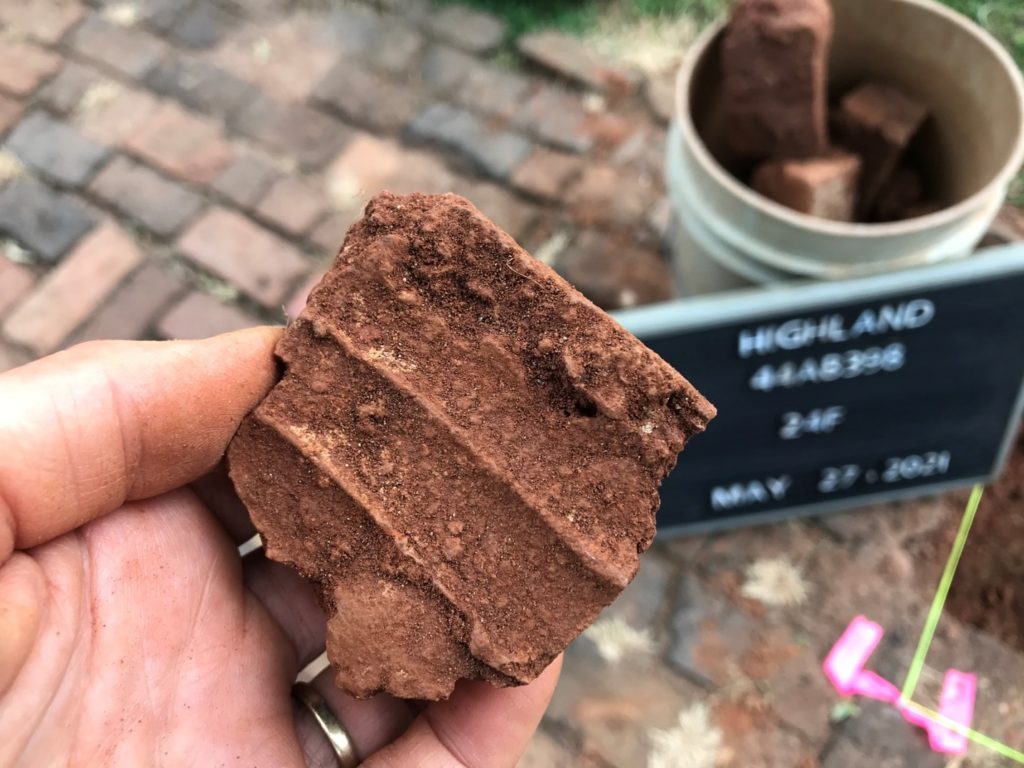 -Clay chinking from 1799 main house at Highland
James Monroe purchased Highland in 1793. It was already functioning as an agricultural plantation, but had no main residence at the time of purchase. Monroe intended for his uncle Joseph Jones and his friends and political associates James Madison and Thomas Jefferson to "site the buildings" and begin construction on a house while Monroe was serving as Minister to France during the Washington presidency. However, progress on the house did not begin until Monroe's return in 1797. The 41 year old James Monroe, who would be Governor-elect of Virginia within a fortnight, moved to Highland with his household in November 1799. His household included his wife, Elizabeth Kortnight Monroe, and their children, Eliza, about to turn 13, and six month old James Spence, who would not live another year. The household no doubt included enslaved people whose identities are not yet known, and it included some whose stories we have been able to reconstruct. Most closely associated with the 1799 Main House and its attached kitchen were Hannah, who was a cook, and her children. Hannah had been enslaved by Charlottesville resident Peter Marks, who died in 1795, and was subsequently enslaved by Monroe. Hannah came to Highland with her youngest children, Nelson and two other boys, and was joined by older sons Charles and Spotswood. This reunited them with another of Hannah's sons, Jesse, who appears to have already been part of the agricultural operation at Highland (see https://highland.org/enslaved-biographies/). Notably, Hannah's daughter and her husband Dick did not accompany the rest of the family. The younger boys, ages through six or seven, probably slept in Hannah's kitchen workspace with her.
Monroe sold the 3,500 acre Highland property in two transactions. He sold the core portion with the main house and 1818 Guesthouse in 1826 to Edward O. Goodwyn. The surrounding property went to other landowners in 1828. The house burned down after Monroe had sold it. There is no direct historical reference to the fire, or at least if there are newspaper articles about it, we have not discovered them yet! Oblique references come from Goodwyn's letters to his neighbor, David Higginbotham in January and February 1830. The implication is that Higginbotham aided Goodwyn after his house had burned down.
Memory of the 1799 Main House became confused, and for over a century there were mistaken identifications of the 1818 Guesthouse as a remnant wing of a main house that had been partially destroyed by fire. Highland's research since 2012 has unraveled the mystery and set a path for new interpretation. The 1799 Main House excavation has provided several clues that the house was furnished when it burned. Wood and cloth furnishings would be destroyed by fire, but some hardware remains as evidence. You can see a discussion of the research here: https://youtu.be/FjspLQtHuu8.
 Artifacts usually tell the stories of an archaeological site as a collection, or assemblage. For example, archaeologists compare the contents of stratigraphic layers to understand relative dates, or calculate absolute dates from a collections of household ceramics. The locations of buildings on plowed sites can be estimated by mapping artifact densities across the site area. Some activities of people occupying a site are also discernable from spatial data, including the dispersal of refuse, with information gleaned from the variety of trash in an area, or the number of small artifacts compared to large ones. This is the kind of archaeological analysis that is conducted with datasets that have been gathered over seasons of research, with assemblages that have been catalogued in databases as simple as spreadsheets, or as elaborate as the Digital Archaeological Archive of Comparative Slavery (DAACS).
Sometimes we can select a few artifacts to represent larger stories. Highland's work on the 1799 Main house is in its infancy, and already we have a few artifacts that can sketch out some of the site's stories.
---
Artifact Based Questions

Cut nails from the excavation of Highland's 1799 Main House (Courtesy of Rivanna Archaeological Services, LLC) and Thomas Jefferson's Nail Book (Courtesy of the William Andrews Clark Memorial Library at UCLA) View
What does this transaction reveal about Thomas Jefferson and James Monroe's relationship?
How many total orders did James Monroe make on the pages from Thomas Jefferson's account book?
Which nails in the archaeological photo are from Thomas Jefferson's nailery? How do you know?
Clay Chinking (James Monroe's Highland) View
What was clay chinking used for?
What can be learned about the enslaved workers at Highland from this artifact?
How does this clay chinking contribute to the historical record in a way that a written source cannot?
Plaster from Walls and Ceilings (James Monroe's Highland) View
How can plaster fragments be used to reimagine the 1799 Main House?
What does plaster reveal about the building's construction and design?
How can the colors remaining on the plaster be used to paint a more accurate picture of James Monroe's wealth and standing in society?
Copper Alloy Escutcheon and Glass Fragments (Photo Credit: Rivanna Archaeological Services, LLC) View
What does this escutcheon indicate about the quality of furniture that James Monroe owned?
 What were bottles repurposed for?
What would finding large quantities of glass in a small area indicate about that historical space?
How can the condition of artifacts help archaeologists determine the location of origin of the fire that destroyed James Monroe's home?
Lock Cases (Photo credit: Jay Hirsch) View
How is modern technology able to help archaeologists visualize damaged objects?
Why are the lock boxes made of two different metals?
What data could archaeologists gather from these finds?
---
Essential Questions
How do artifacts complement written sources?
What limitations do artifacts present to the historical record?
How do artifacts help us visualize 18th-19th century society?
What can the artifacts uncovered at Highland tell us about the individuals who lived there?
---
Virginia Standards of Learning
USI.5  The student will apply social science skills to understand the factors that shaped colonial America by
d) describing colonial life in America from the perspectives of large landowners, farmers, artisans, merchants, women, free African Americans, indentured servants, and enslaved African Americans
---
Era 4 Expansion and Reform
Standard 2A
Grades 9-12     Compare how patterns of economic growth and recession affected territorial expansion and community life in the North, South, and West. [Analyze cause-and-effect relationships]
---
Bibliography & Suggested Readings
Diggs, Carol. "Digging Down: Archaeological Research at Highland Sheds New Light on People Who Lived and Worked There." C-Ville Weekly. July 28, 2021. https://www.c-ville.com/digging-for-clues.
Jefferson, Thomas. Nailery Account  Book. 1796-1800. Microfilm.  Call  #E332.74 .N35 1796.  Thomas Jefferson Library, Monticello. Albemarle County, Virginia.
Seurattan, Suzanne. "Science Rewrites History at the Home of President James Monroe." William & Mary. April 28, 2016. https://www.wm.edu/news/stories/2016/science-rewrites-history-at-the-home-of-president-james-monroe.php.