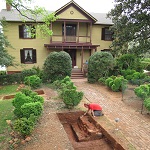 Recent archaeological excavations conducted at the historic core of Ash Lawn-Highland, the home of President James Monroe, are exploring foundations of a building that may be a portion of Monroe's original house. The foundations were discovered during archaeological excavations conducted in April by Rivanna Archaeological Services of Charlottesville.
"This research will tell us more than the architectural details of a house," said Ash Lawn-Highland Executive Director Sara Bon-Harper. "Our discoveries will tell us more about James Monroe and who he was in his social and political aspirations."
The current excavations are a second phase of research and follow shovel testing performed in December. The earlier research found a significant deposit of Monroe-period architectural debris in the front yard of the ca. 1870 house added by the Massey family. The debris included handmade bricks, hand wrought nails, window glass, wall plaster and ceramics. The testing also found furniture tacks, which suggested the building was furnished at the time of its destruction. There is clear evidence of burning with thick layers of charcoal and burned timbers, as well as burned nails and window glass.
Further research will determine whether the building was attached to the current Monroe-era house or separate from it.
When the College of William & Mary inherited the property from its last private owner in 1974, it immediately conducted the necessary research to verify Monroe's ownership and occupancy and to better understand the architecture of the house. Since that point it has been recognized that a portion of the Monroe house is missing –likely destroyed at some point in the mid-1800s.
A later owner, the Rev. John Massey, built a house adjacent to the standing Monroe-era structure. Archaeological investigation in the 1970s explored the crawl spaces under the Massey house but did not find conclusive evidence of the missing wing. Research conducted within the past months at Ash Lawn-Highland follows questions raised in the earlier work.