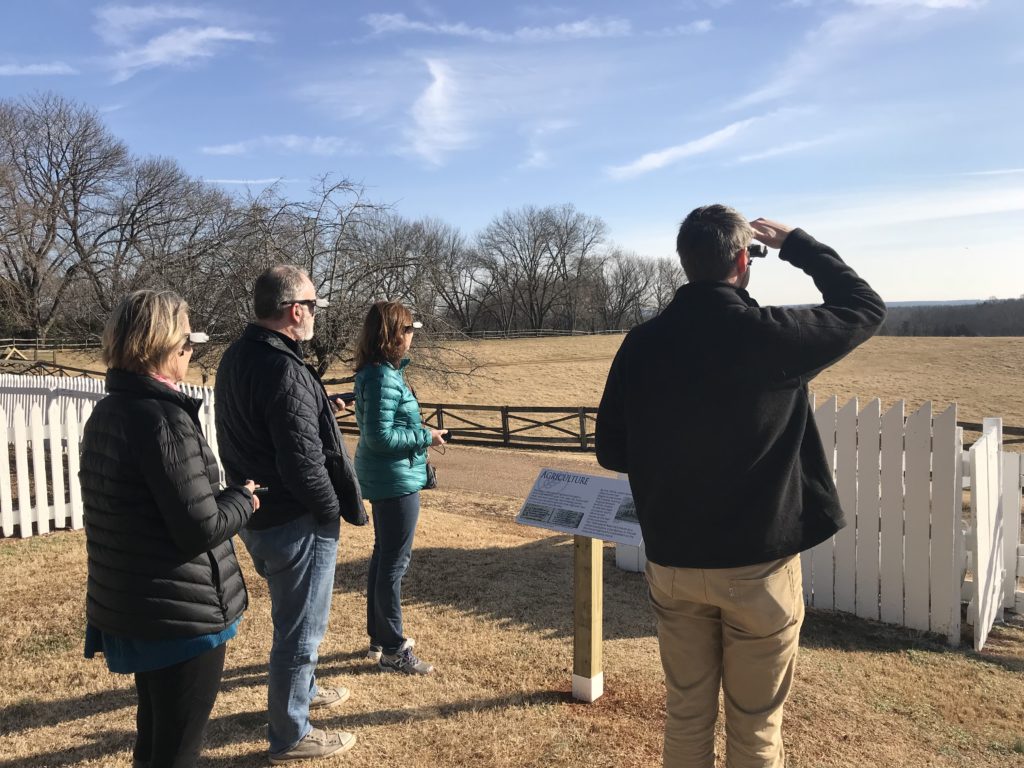 James Monroe's Highland announces groundbreaking ARtGlass augmented reality (AR) tours at the historic home of the fifth President. Highland is the first historic site in the United States to offer AR tours using smart glasses developed by Epson, providing a hands free experience. Public beta testing will begin on Monday, February 5, allowing ticketed guests to experience the augmented reality tour at no additional charge. Guests who participate in beta testing will be asked to complete a short survey about their experience.
Visitors enjoying the AR tour will roam through augmented environments, mostly outdoors, while 3D reconstructions, animated characters, videos, pictures, and text appear on the Highland landscape. The Highland AR experience will immerse visitors in never-before-seen content including conversations between historic Highland residents, 3D archaeological excavations, and architectural renderings. Content for the AR tour was developed from three years of research at the Monroes' Albemarle County, Va. property and features the latest discoveries at the site.
"Augmented reality brings historical figures to life and shares the sense of discovery here at Highland in ways that are both educational and immersive," said Highland Executive Director Sara Bon-Harper. "We expect to draw more—and more diverse—visitors."
Highland has partnered with ARtGlass, a pioneer of AR storytelling software and support for cultural, art, and historic venues, and with Epson, provider of the Moverio AR smart eyewear platform, to develop groundbreaking experiences for visitors. ARtGlass and Epson have already provided over 500,000 experiences at dozens of museums, palaces and ruins throughout Europe. "When we first launched ARtGlass in Italy, we knew that if we could overcome the challenges of bringing wearable AR tours to the Old World, we'd be ready for the New World," said Greg Werkheiser, ARtGlass cofounder and CEO, in Washington, D.C. "We are thrilled now to help revolutionize cultural tours at U.S. sites."
See a "behind-the-glasses" sample of the Highland tour here: https://www.youtube.com/watch?v=Nwe1uaV9tqs.