Born: unknown
Died: unknown
Family relationship: Husband of unknown enslaved woman sold South at Carter Braxton's estate sale on January 30, 1810
Role: Manservant
Roger was purchased by James Monroe from the estate of Carter Braxton on January 30, 1810. Monroe wrote that he'd purchased Roger "for my own accommodation," so Roger was likely an enslaved manservant (James Monroe to Fulwar Skipwith, 9 October 1810). Roger's wife had been "sold to some one to the South at the same time" at the sale Monroe attended, and Roger had communicated to Monroe that he was "desirous of going that way in hope they might finally meet again" (James Monroe to Fulwar Skipwith, 9 October 1810). It is unknown if Roger was able to find his wife after being sold by Monroe to Fulwar Skipwith in New Orleans.
---
Advertisement from The Enquirer (Richmond), 6 January 1810
Sale of Carter Braxton where Monroe purchased Roger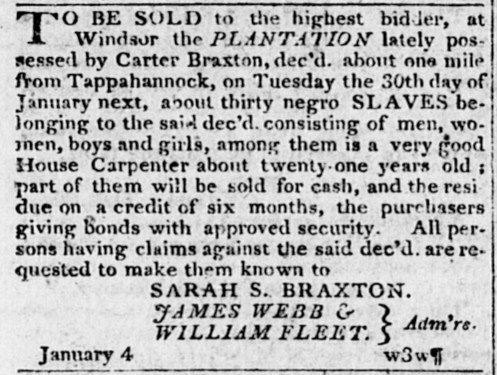 Virginia Chronicle: Library of Virginia, https://virginiachronicle.com/?a=d&d=EN18100106.1.1&srpos=1&e=–1810—1810–en-20-EN-1–txt-txIN-braxton——-
---
James Monroe to Evalina Louise Skipwith
"Albemarle sepr 19. 1810.
I have few house servants, and those old and their children whom it wod be cruel to part from their parents. I will send Mr. Brokenbrough one male servant, whom I bought the last winter at the price of £140. he is healthy, and a fellow of good character; except that I wish him to accommodate Mr. Skipwith I shod not think of parting with him."
Courtesy of the Papers of James Monroe: http://monroepapers.com/items/show/2130
---
James Monroe to George Hay
"Sepr [25] 1810.
Be so good as to ask Dr. Brokenbrough when he sends off the people he has purchased for Mr. Skipwith to N. Orleans, & that I have one which I wish to enclude in the numbers, & shall send down in time to go with them."
Courtesy of the Papers of James Monroe: http://monroepapers.com/items/show/2131
---
James Monroe to Fulwar Skipwith
"October 9 1810
I have sent to Richmond to Dr. Brokenbrough a negro man, named Roger, whom I purchased at Mr. Braxtons sale last spring at the price of £140., that he may be forwarded to you. Having bought him for my own accommodation, I part with him solely for yours, with this remark however that his wife having been sold to some one to the South at the same time, he has been desirous of going that way in the hope they might finally meet again. On proposing to sell him to you, & explaining your character residence &ca, he was perfectly willing to go to you. As to the price, I mention what I gave, but I shall be happy to hear from you on the subject. My object being to accommodate you rather at a loss than to fail in it, in the only way that my situation at this time permits."
Courtesy of the Papers of James Monroe: http://monroepapers.com/items/show/2130