Born: unknown
Died: after 1825
Family relationship: Husband of Eve; father to four children (names unknown)
Role: unknown
Joe was included with his wife and four children in an 1825 mortgage between James Monroe and the Farmer's Bank of Alexandria. He appears to have been enslaved at Highland for at least sixteen years before the mortgage (1809-1825). It is not known what happened to Joe and his family after the sale of Highland.
---
Clothing distribution list on back page of letter marked "1809" between James Monroe and unknown
Joe could have been any of the three individuals named Joe on this list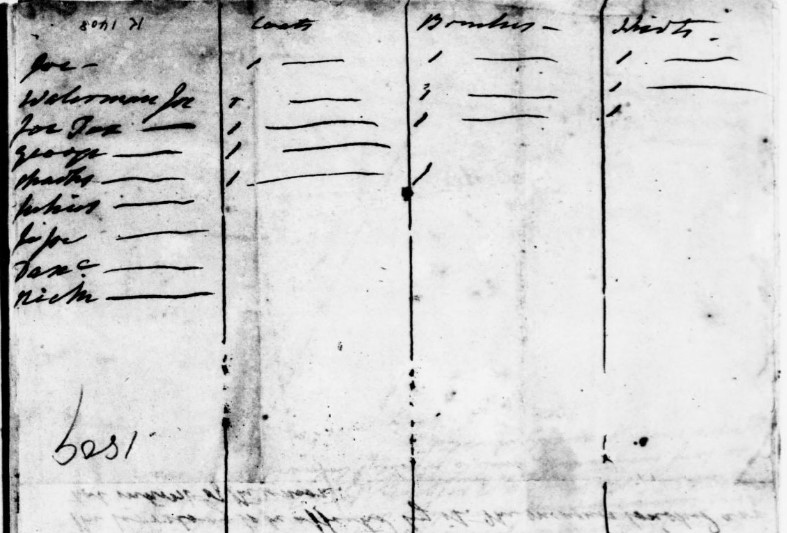 "Coats                                   Breeches —                        Shirts
Joe                                       / ______                             /­­­_______                            /_____
Waterman Joe                  /   _____                             / ______                             /________
Joe Fox                               /_________                       /_______                            /
George                                /  __________
Charles                                /___________                   /
<illegible>
Jesse
Danl [Daniel] Dick"
Courtesy of the Library of Congress, James Monroe Papers: https://www.loc.gov/resource/mss33217.004/?sp=791&r=-0.157,0.014,1.239,0.697,0
---
1810 blanket list inside account book of expenses in Paris, June 1794–April 1797
Joe could have been either of the two individuals named Joe on this list.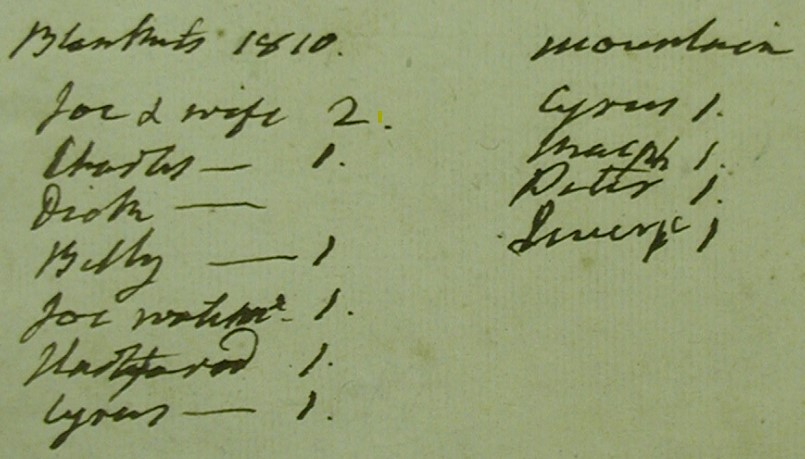 "Blankets 1810.                                                                      mountain
Joe & wife 2.                                                                           Cyrus 1
Charles—1.                                                                             Ralph 1
Dick—                                                                                       Peter 1
Billy—1                                                                                <Illegible> 1
Joe Watermn 1.
Hartford 1.
Cyrus—1."
Image courtesy of the James Monroe Museum. Transcription courtesy of the Papers of James Monroe.
---
Albemarle County Deed Book (25:143)
James Monroe mortgaged Limestone Farm and 21 enslaved people to John Hooff, Cashier of the Farmer's Bank of Alexandria for $4,735.76. It is difficult to determine whether the individuals listed are at Limestone or at Highland.
"April 5, 1825
Have granted bargained and sold aliened released and confirmed and by these presents do grant bargain and sell alien release and confirm into the said John Hooff and his heirs a tract of land in the County of Albemarle and the State of Virginia about three miles below Milton on and about one mile from the Rivanna a branch of the James River consisting of seven hundred and eight acres divided into two farms, with a good framed Dwelling house and other improvements on each. Also the following negro slaves, Jesse, Charles, Nelson a Blacksmith, all young men and brothers, William a Carpenter, Joe and Eve his wife and their four children, Armstead and Zachariah both young men, Toby and Betsy his wife with their three children, Solomon and Nancy his wife, Ned & Peggy his wife."