Born: about 1796
Died: unknown
Family relationship: Husband of Phebe
Role: laborer
George and his wife Phebe ran away from Highland the night of Monday July 3, 1826. It is likely that George or Phebe had previously spent some time at Monroe's Oak Hill property in Loudoun County, Virginia since the ad presumes "they are supposed to be making for the county of Loudon [sic]." The couple's fate is unknown.
It is not thought that this George helped construct the surviving guesthouse at Highland. This 1826 runaway advertisement is the first documentation of his presence, which means he could have been purchased after the completion of the guesthouse in 1818. The George who most likely helped build the guesthouse is George Williams, who is mentioned in letters within four years of the construction of the guesthouse.
---
Advertisement from (Charlottesville) Central Gazette, July 8, 1826
Runaway slave advertisement for George and his wife Phebe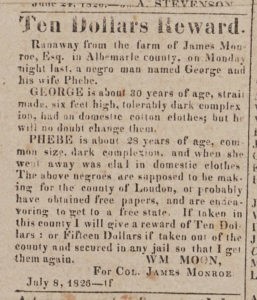 Courtesy of University of Virginia Special Collections
"Ten Dollars Reward
Runaway from the farm of James Monroe, Esq., in Albemarle county, on Monday night last, a negro man named George and his wife Phebe. GEORGE is about 30 years of age, straight made, six feet high, tolerably dark complexion, had on domestic cotton clothes; but he will no doubt change them. PHEBE is about 28 years of age, common size, dark complexion, and when she went away was clad in domestic clothes. The above negroes are supposed to be making for the county of Loudon, or probably have obtained free papers, and are endeavoring to get to a free state. If taken in this county I will a reward of Ten Dollars or Fifteen Dollars and taken out of the county and secured in any jail so that I get them again.
WM Moon,
For Col. James Monroe."
July 8, 1826″