Born: before 1809
Died: after 1844
Family relationship: husband of Eve; father of William, Hannah, Patsy, Jane, Ellen and Richard
Role: unknown
Dudley was enslaved to the estate of Monroe's uncle, Judge Joseph Jones in Loudoun County, Virginia until 1809 when he was transferred to James Monroe. He was sold with his wife Eve and their two children in 1828 from Highland to Joseph White, owner of Casa Bianca plantation in Monticello, Florida. Dudley and Eve appear to have had four more children in Florida. Dudley was enslaved for at least sixteen years at Casa Bianca (1828-1844), but does not appear on any subsequent inventories after the year 1844.
More about Dudley: https://taketheminfamilies.com/stories-2/#Dudley
---
Joseph Jones Estate Sale – December 21-22, 1809
"Charles J. Love
negroe man named Harford       262
Woman named Molly & Child     335
Boy George                                     523
[Ditto] Moses                                 602
Man Dudley                                 531
[Ditto] Cyrus                                   550
Small Girl Peggy                            226
[Ditto] Sally                                    301                                  3350.00
Negroes Harford, Molley, & Child, Dudley, Cyrus, Toby, George, Moses, Eve, Peggy & Sally purchased by Charles F Mercer, Charles J Love and Armisted B Mason Amounting to    4235
Also the Waggon and two Horses with their Geer purchased by James Rousseau Amounting to        130
4365
Was transferred to James Monroe the Executor"
Courtesy of the Papers of James Monroe: https://highland.org/wp-content/uploads/2020/09/1809.12.21-Sinclair-sale-account-of-J-Jones-estate-119504-TDP-C1RK.docx

---
Albemarle County Deed Book (26:147)
September 20, 1826
James Monroe mortgaged Limestone Farm and 13 enslaved people to the Bank of Virginia for $3,560.73:
"Unto the said William Dandridge and William Roane the following property that is to say a certain tract of land lying and being in the County of Albemarle about three miles below the town of Milton and one mile North of the Rivanna River adjoining the lands of David Michie, Charles Huckstep [Lathers?] and containing seven hundred five acres more or less together with all the buildings and improvements thereon. Also the following Slaves to wit Toby & Betsey his wife & their seven children now living, Dudley & Eve his wife & their two children now living which said Slaves are at this time on the said James Monroe's estate in Albemarle above Milton together with the increase of the females."
---
James Monroe to James Madison
"OAK HILL Sepr 23d. 1827
The sale of my slaves, &ca, in Albemarle, it is expected will take place in Novr. so that it will be very pa[in]ful to me, to attend there, at the next meeting You shall however hear from me on the subject."
Courtesy of Founders Online: https://founders.archives.gov/documents/Madison/99-02-02-1119
---
Advertisement from the Richmond Enquirer, 2 November 1827
Dudley would have been among the enslaved advertised in this sale: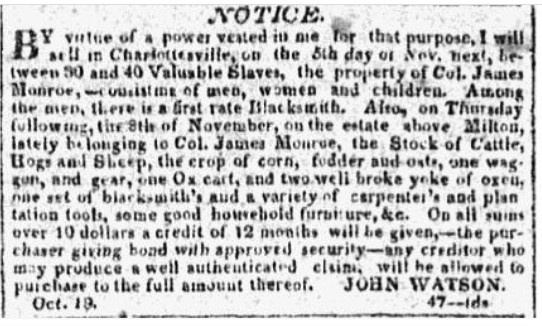 Courtesy of Early American Newspapers Series 1-5 (1690-1922)
---
James Monroe to Samuel L. Gouverneur
"Oak Hill 7 January 1828
My slaves in Albemarle are not yet sold. Col. White of Florida has had thoughts of purchasing them, & intimates that Mr. Astor wod take his funds due and relieve me in the amount; but by a letter rec'd from him today, he hesitates, both on acc't of the price & the number of children, there among them. How it will terminate, I cannot say."
Courtesy of the New York Public Library, James Monroe Papers
---
James Monroe to Samuel L. Gouverneur
"Oak Hill 11 Jan. 1828
I have to day rec'd, a letter from Mr. Watson, who informs me, that he had sold Nelson & Charles only, the first at £700, the other at £400. The rest of the people, remain undisposed of, and the sale to Col. White, or any other person, is uncertain … By selling my negroes I may obtain bonds & as the people who purchase them will be known to the [illegible] which they will take, and by being at liberty to sell them to whom, I please, I may get better prices for them, as I presume, than if I sold all to one person."
Courtesy of the New York Public Library, James Monroe Papers
---
James Monroe to Dr. John Brockenbrough
"Oak Hill February 6, 1828
…Col. White of Florida then offer'd to purchase, the whole number, with the exception of those sold in the neighborhood in payment of debts there, and to take them on valuation, to be made by impartial persons. …The list which I sent you, which I proposed as a substitute, I thought, presented others much more valuable, the [?] being grown & active servants, most of them, and many of the others infants, or very young – I saved now others to add to them, who will more than make up the difference, between the two [illegible]. Not having retained the names, of those sent, I may include some of them in this, but in that case, I will substitute others, having still some others."
Courtesy of the New York Public Library, James Monroe Papers
---
James Monroe to Nicholas Trist
Monroe discussed the September 20, 1826 mortgage to the Bank of Virginia with Nicholas Trist (grandson-in-law to Thomas Jefferson).

"Oak Hill Feby 19th 1828
Thirteen of the slaves for sale, in Albemarle, were mortgaged to the bank of Virginia, as an additional security, to the land below Milton, for $3,570. After the failure to sell them on the day appointed, an application was made to me, by Col: White of Florid, to purchase the whole number. I told him of the mortgage, + that he shod have them at a valuation, to be made by impartial persons, if he could obtain of the bank, a release of my debt to it; or failing with it, obtain a like release, in the amt of Mr. Astor. He failed with the bank, but succeeded with Mr. Astor, + the affair is now suspended, by a negotiation, with the bank, to obtain to release of its lien, on those slaves, by the substitution of others, of equal, or greater value here, in which I have experienced a difficulty, which has surprised me. The land was ample security, but I am willing, to give any, in reason, which they may ask."
Courtesy of the Library of Congress, Nicholas Trist Papers
---
James Monroe to James Madison
"OAK HILL March 28th. 1828.
I send you a copy of my memoir, which has been reprinted in a pamphlet, under the direction of my friends in Albemarle. I have sold my slaves in that county, to Col: White of Florida, who will take them in families, to that territory. He gives me for them, (with the exception of a few sold there) five thousand dolrs., which are paid, by obtaining for me, a release in that amount, from J. J. Astor, for a loan obtain'd of him in the late war, offerd by himself, on hearing that I was pressd for money—"
Courtesy of Founders Online: https://founders.archives.gov/documents/Madison/99-02-02-1351
---
Schedule of Negro Slaves Mortgaged to William Bellamy, 1844
Joseph White, the original owner of Casa Bianca, died in 1839. White's wife Ellen remarried to Theophilus Beatty. Beatty ran into financial trouble and mortgaged a group of enslaved individuals to William Bellamy, including Dudley, his wife Eve, and their children.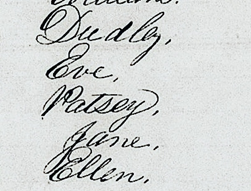 "Dudley,
Eve,
Patsey,
Jane,
Ellen,"

"Richard.
William.
Bella."
Images courtesy of Miranda Burnett and the Jefferson County, Florida Deed Book E:113