Born: unknown
Died: unknown
Family relationship: unknown
Role: unknown
Daniel was physically assaulted while rented out by Monroe to Albemarle County planters Joseph Brand and Thomas Jefferson Jr. (nephew of Thomas Jefferson through his brother Randolph Jefferson), causing James Monroe to sue for property damage.
---
Clothing distribution list on back page of letter marked "1809" between James Monroe and unknown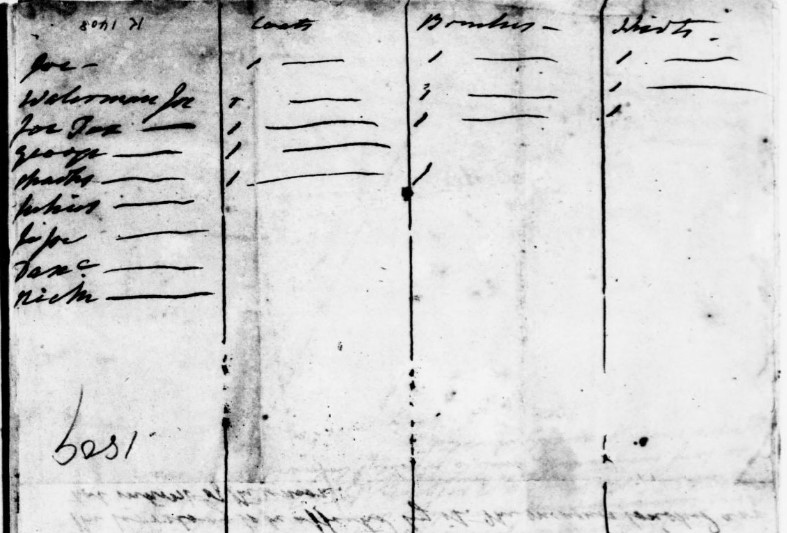 "Coats                                   Breeches —                        Shirts
Joe                                       / ______                             /­­­_______                            /_____
Waterman Joe                  /   _____                             / ______                             /________
Joe Fox                               /_________                       /_______                            /
George                                /  __________
Charles                                /___________                   /
<illegible>
Jesse
Danl (Daniel)
Dick"
Courtesy of the Library of Congress, James Monroe Papers: https://www.loc.gov/resource/mss33217.004/?sp=791&r=-0.157,0.014,1.239,0.697,0
---
Bill of Complaint
"[31 October 1810]
Albemarle County to wit
James Monroe complains of Joseph Brand, & Thomas Jefferson jr in custody of &c. For this that they the said Joseph & Thomas on [blank] day of [blank] in the year [blank] at the parish of [blank] & county aforesd with sticks and arms, to wit with sticks switches, & cowhides s[et] on Daniel a negroe slave, the property of the plt: an assault did make & him the said Daniel did then & there beat, wound, & maltreat, so that his life was despaired of, whereby the plt:, the whole service of the said Daniel, his slave, as aforesd , then & for the space of [blank] from thence ensuing, entirely lost & was deprived of, against the peace and dignity of the commonwealth. Whereby the said plt: says that he is prejudiced, & hath sustained damage, to the value of [blank] & therefore he produces his suit &c."
Courtesy of the Papers of James Monroe, Volume 5
Joseph Brand was found guilty and mutual acquaintance Charles Everett settled between Monroe and Brand. Monroe had sued for five thousand dollars but would only awarded twenty dollars by the jury on July 3, 1812.
See James Monroe to Charles Everett, 23 March 1812: http://monroepapers.com/items/show/2267
---
James Monroe to Samuel Lane
"Oak Hill, October 17, 1819
…I wish you had ordered Danl [Daniel] to be well whipped by the constable on his return. He is a worthless scoundrel, who deserves it. Tell him that you are authorized to sell him to the N. Orleans purchasers, and that you will do it for the next offense. The most rigid discipline must be maintained over all the servants + particularly my slaves, as an example to the others."
Courtesy of the Virginia Museum of History and Culture