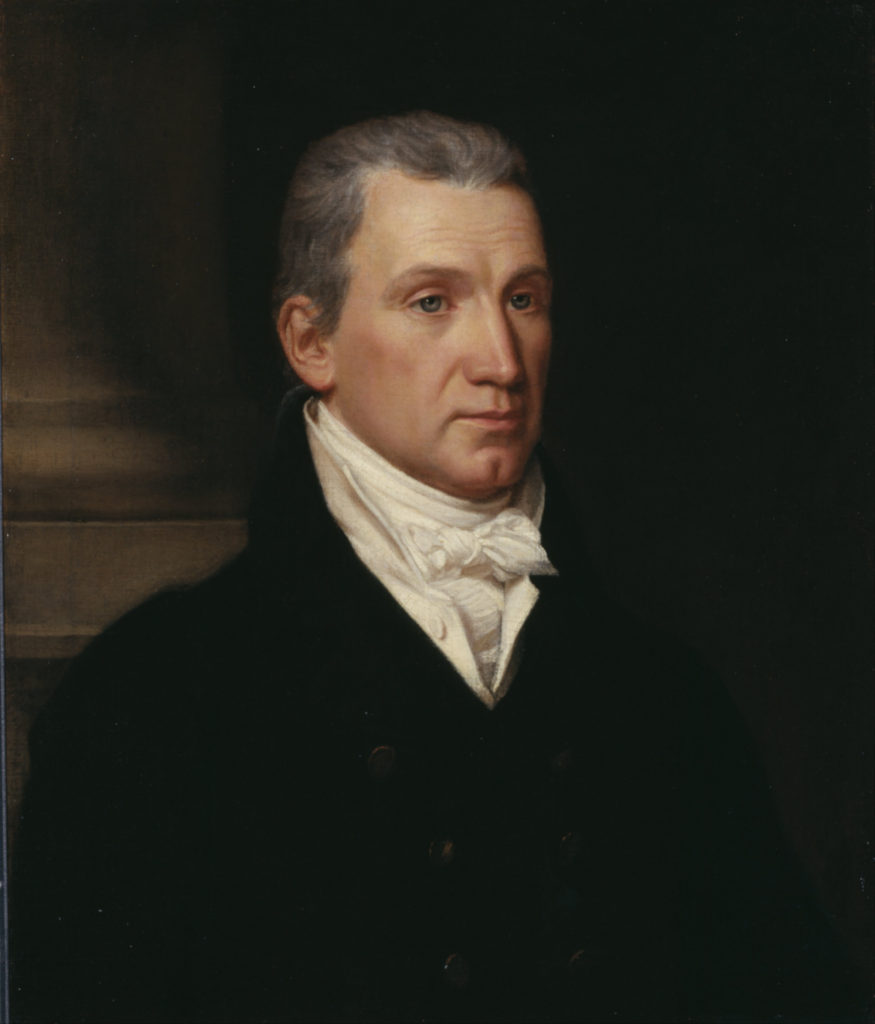 James Monroe's Highland has partnered with historian Rick Britton, the James Monroe Museum, and the Senior Center of Charlottesville to organize "The Life & Times of James Monroe" Lecture Series. This class will explore the life of this patriotic Virginian and former resident of Albemarle County. Attendees will learn about: Monroe's revolutionary enthusiasm; his amazing service at the Battle of Trenton; what slavery was like at Highland, his Albemarle County property; his Presidential Tours of New England and the South; and Monroe's close friendship with George Washington.
The lecture series will be held at the Senior Center Inc. on five consecutive Thursdays, from 6:oo to 7:oo p.m. A sixth Thursday will be a dedicated "Travel Session" with visits to Highland and the James Monroe Museum. Lecturers include Scott A. Harris, Director of the James Monroe Museum; Nancy Stetz, Highland's Education Programs Manager; Daniel Preston, Editor of the Papers of James Monroe; William Ferraro, Editor of the Papers of George Washington; and local Historian Rick Britton.
Thurs., June 1st – 6:oo pm – "James Monroe; A Revolutionary Idealist" – Harris
Thurs., June 8th – 6:oo pm – "Bona Fide Hero of the Revolution" – Britton
Thurs., June 15th – 6:oo pm – "James Monroe & Slavery" – Stetz
Thurs., June 22nd – 6:oo pm – "Monroe's Presidential Journeys" – Preston
Thurs., June 29th – 6:oo pm – "James Monroe & George Washington" – Ferraro
Thurs., July 6th – Travel Session: An entire day focusing on Fifth President James Monroe! In the morning we'll take in Fredericksburg's wonderful James Monroe Museum then dine nearby at Cracker Barrel. In the afternoon we'll get a very special treat, a one-of-a-kind tour of Monroe's Highland featuring a presentation by Director Sara Bon-Harper on all of the latest archaeological discoveries. Come join us! (Bus tour departs 9:oo am, returns between 5:3o & 6:3o pm. Travel session is a separate charge.)
The cost of this event is $70 for Senior Center members and $8o for guests.
For more information call the Senior Center Travel Office at (434) 974-6538, go to www.seniorcenterinc.org, or e-mail RHBritton@aol.com.